As the entire world was affected by the Covid-19, year 2020 the tourism industry was so much injured world-wide. By the time the world went into the black side of lock down I and my wife we were planning to visit Africa.
This was our second time to plan to go to Africa as in 2017 we had pure wildlife experience in Tanzania and Kenya, experiencing the great wildebeest migration in Serengeti, Ngorongoro and Maasai Mara.
During our great wildlife safari in East Africa, we read about the mountain gorillas in Rwanda, Uganda and the Democratic Republic of Congo.
Then as soon as we arrived home we started preparing for the next visit to the gorillas and deciding from the 03 countries was a bit challenging as we had various points to consider.
When we checked with Uganda the gorilla permits price was absolutely and relatively pleasing and this is the destination that every traveler would with to go. But, on our side we later challenged the destination reason that traveling from the country's city (Kampala) to the park it is quite long and also when you also take charter from the airstrip to the chosen lodge it is hectic with bad conditions of the roads and this destination is much suitable to the adventurous travelers.
More so, when we thought and tried to find out the premium lodge to relax for our 4 nights, we found all the lodge luxury but not exactly what we wanted to enjoy our time after the hassling quarantine of Covid-19.
Once again, we don't discourage luxury travelers to visit Uganda, just the point is we did not find the exotic luxury we were looking for during that time and soon we are planning to visit Uganda and explore the much more it offers from it's 10 national parks, sanctuaries and reserves.
Later, we started to consider the Virunga National Park, mountain gorillas and going into details the country's security was not so much pleasing for our holiday in Africa. This park is so much loved due to some of the luxurious Mikeno Lodge and the most of the interesting tourism products to explore in the place and this includes the mountain gorilla, Nyiragongo trek, chimpanzee and then the holiday relaxation at the shores of Lake Kivu staying at Tchegera Tented Camp.
Though Rwanda looked to be expensive and yes, it is from the gorilla permits up to the new establishment in the cities and parks it is the destination we were looking for. Here we started the planning of our luxury Rwanda tour including the gorilla trekking and wildlife experience.
Well, looking for the tour operator to arrange for us the best premium safari in Rwanda we found the Eco tours Rwanda on trip advisor and my husband sent in our booking detailed with everything that we want to experience.
In few minutes we received a response from Moses the tour consultant of this company and his response was so amazing and could make every person looking for trip to highly wait for what is preparing.
Later after an hour Moses was back to us with a well detailed 07 Day Rwanda safari itinerary that was covering the mountain gorilla and chimpanzee experiences in Volcanoes and Nyungwe Forest National Parks respectively.
When we received the program from him, we started serious and wide discussion of the whole safari. As I said before that Covid-19 affected the industry some lodges were closed and planning to open in December 2020 yet our trip was happening in August 2020.
In the Volcanoes National Park, the Singita Kwitonda & Kataza House was open and ready to receive us and Moses did his best and as a professional tour consultant he managed to book us a very nice and spacious forest cottage for our 04 nights and staying at this lodge you will stay at your full expectations. Then in Nyungwe Forest the One & Only Nyungwe House which seem to be of same category as Singita Lodge was still closed and as we were in much love for chimps and canopy walk Moses wanted to book us in Nyungwe Hill Top Hotel but checking on it's service it was out of our stay.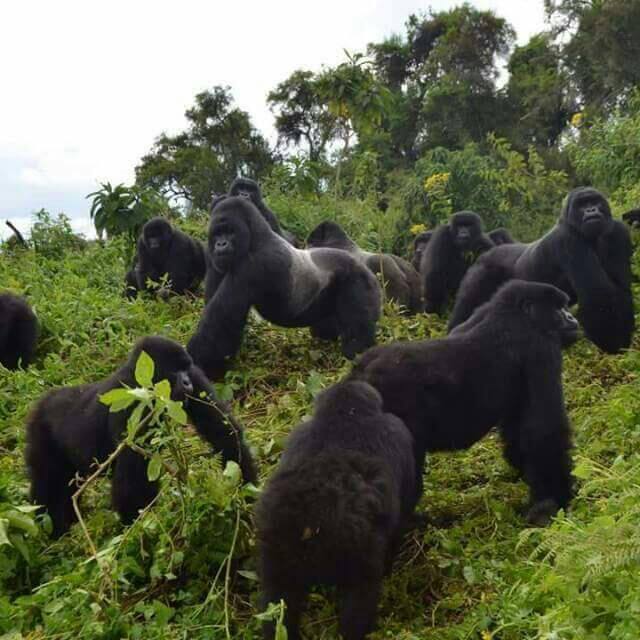 The gorilla trekking experience was so amazing. We were allocated to the easiest gorilla family (Muhoza Family) and within like 01 hour we met the family and it is nice as it has the juvenile and the other jolly members. The head of the family was spotted and cool taking care of the young ones and entire family.
Later, Moses proposed the visit to the Akagera National Park such that we can experience the undulating scenic landscapes, wildlife, birds and Lake Ihema. Well, whenever he proposed a destination to visit in Rwanda, our concern was first to check which lodge to stay and here you find the Magashi Camp a newly opened sophisticated classic camp and it was of our choice but later he came with information from management that the place is still out of use due to the high water of the Lake Ihema.
We were almost losing hope in the trip but he later advised the Ruzizi Tented Camp and this too was a bit deluxe and my husband found this camp to be offering the Luxury Ruzizi Tree Tent and we requested him to book this unit before we do anything else and it is what he did.
After finalizing all this we later discussed on how we can pay, as our trip was last minute booking, he advised we come with cash but since the money was too much and we couldn't carry huge sum of cash on plane. So, we carried like $3,000 and the balance was cleared by charging our Visa credit cards and we found it easy.
To make our trip so sophisticated and super luxury we opted to take one route flight. Going to the Volcanoes National Park, we drove through the amazing landscapes and arriving at Singita Kwitonda Lodge the welcome was so jolly. Thereafter, from Singita we took Akagera Aviation domestic flight to Akagera Airstrip and upon arrival our guide was ready at the airstrip to receive us and transfer us to the Ruzizi Camp.
Then, going to Rwanda during the Covid-19 era you need to know the following and it is simple and hassle free when you work well with your operator and Moses did good work during our travel to coordinate the Covid-19 tests.
Rwanda provided a list of waiting hotels and here we chose to stay at Marriott Hotel, Kigali and as we had some incentives with this hotel we book in our selves and upon arrival at the Kigali International Airport a representative from this hotel picked us up and took us to the hotel area for 24 hours Covid-19 test. This 24-hour Covid-19 test is possible when you come with your SARS-CoV 2 Real Time Polymerase Chain Reaction (RT-PCR) performed within 120 hours of departure (meaning travelers must be tested and get results within 5 days of their first flight).
Thereafter, the 24 hours arrival test you will wait inside your hotel room as you wait for your results that will always be shared on your email and once you are negative the following day you are free to start your trip and that was case to Volcanoes National Park for the primate experiences in Rwanda.
Again, before you leave Rwanda you will have to take the departure 3 days before you depart back home and us, we did this from the Musanze town laboratory.
In conclusion Rwanda is a luxury destination and you can evidence this from the gorilla permit from $ 750 – $ 1500 and new ideas put in place like the personalized visit of particular gorilla family at $ 15000 and the Behind the scene experience of $ 30000 of minimum of 3 people for the 3 consecutive days.
The luxury safari lodges and exclusive camps to stay include the Singita Kwitonda & Kataza House, Bisate Lodge, One & Only Resorts (Gorilla's Nest Lodge and Nyungwe House), Magashi Camp promoting luxury wildlife safari experience in Rwanda.
Still, if you are planning to combine a luxury African safari. You can easily think about Luxury Tanzania Rwanda Safari – 10 Day. This African luxury safari will take you to the Singita lodges in Tanzania and Rwanda and you will have full service of these Eco-friendly safari camps set in African style with African raw materials that highly blend with nature! Therefore, I highly recommend you to go to Africa.